Las Vegas Tips
for first-time visitors
var _gaq=_gaq||[];_gaq.push(['_setAccount','UA-24081017-4′]);_gaq.push(['_trackPageview']);(function(){var ga=document.createElement('script');ga.type='text/javascript';ga.async=true;ga.src=('https:'==document.location.protocol?'https://ssl':'http://www')+'.google-analytics.com/ga.js';var s=document.getElementsByTagName('script')[0];s.parentNode.insertBefore(ga,s);})();
google_ad_client="pub-8387241929343321″;google_ad_width=250;google_ad_height=250;google_ad_format="250x250_as";google_ad_type="text";google_ad_channel="";
One of the first Las Vegas tips we can offer you is that you are visiting a place that is unlike any other city in the world. As your plane lands and you see the Las Vegas skyline for the first time, the adrenaline rush begins and it won't end until you're back home again. Your Las Vegas trip may be a once-in-a-lifetime experience or it may be the first of many visits. Either way, we hope that our tips and suggestions will help to make the adventure an unforgettable experience.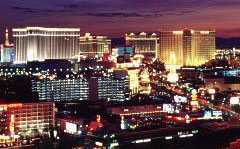 Las Vegas Tips on Getting There
google_ad_client="pub-8387241929343321″;google_ad_width=160;google_ad_height=600;google_ad_format="160x600_as";google_ad_channel="";
Las Vegas air and hotel charter packages usually offer the best deal for your Las Vegas vacation. Whether you choose a charter or booking a flight and hotel on your own, your point of origin determines the travel costs. Sometimes driving to a larger airport some distance from the airport nearest to your hometown can result in huge savings on the price of a charter package or airline ticket.
If you're planning a long-weekend getaway, choosing a Saturday arrival and Monday return is usually cheaper than arriving on Friday and departing on Sunday. And if you are able to travel during the week you won't pay the much higher Friday and Saturday night hotel rates. Not only will you save money, you'll also avoid the weekend crowds.
Las Vegas Tips on Airport Shuttles
Charter packages usually include airport-to-hotel transportation, but if you arrive on your own, the cheapest way to get to your hotel is by Airport Shuttle. The shuttle can be a van or mini-bus and currently costs $4.50 per person to Strip hotels and $6 to downtown hotels. If your group consists of 3 or 4 persons it might be cheaper (and faster) to take a taxi. Shuttle buses are located outside Exit 14 at Terminal 1 and at the Bus/Taxi Exit at Terminal 2.
Las Vegas Tips on Hotels
Las ray ban sunglasses Vegas hotel room prices fluctuate wildly. A room that goes for $69 a night one week may cost well over $200 a night the following week. It all depends on whether or not there is a big convention or sporting event in town. If you find room rates are high, check the following week or weekend when they could be considerably lower. Also keep in mind that prices are always higher for Friday and Saturday nights.
Besides their quoted rack rate, casino hotels also have a reduced "casino rate" for guests who play their slot machines and table games. It is even possible to get your room, restaurant meals and more for free.
Those who want to splurge cheap nhl jerseys and surround themselves with the utmost in luxury might consider booking into Bellagio, Venetian, Caesars or Wynn. If you're a budget-minded traveler, the Tropicana, Imperial Palace or the Riviera will fill the bill.
"Middle of the road" options are Bally's, New York New York, Monte Carlo or Luxor. And if you bring children along, check out Excalibur, Mirage and Circus Circus. The latter of the three will probably have the lowest rates as well as the most child-oriented entertainment.
Click here for a complete list of all Las Vegas hotel casinos and their web sites.
Las Vegas Tips on Things to do
Along the famous Las Vegas Strip there are numerous attractions that will amaze you. Many of these spectacles are absolutely free, just enjoy and be enthralled. Among the most famous, not-to-be-missed, free attractions are the volcano at Mirage, the fountains at Bellagio, "The Sirens of TI" at Treasure Island, the lion habitat at MGM Grand and the wildlife habitat at the Flamingo. Click here for Attractions on the Strip and Attractions away from the Strip.
Las Vegas Tips on Getting Around
Taxis are fine but can end up being costly if you use them a lot. A cheaper, but less convenient, method of transportation is the public transit system. The bus route takes you to a stop near any hotel along the Strip and runs all the way to Downtown and the Fremont Street Experience. Stops are well marked and the fare currently costs $2 a head. The buses run every 10 minutes or so, but they can be crowded at certain times of the day.
Another option is the Las Vegas trolley. The Strip trolley runs every 15 minutes between 9:30am and 1:30am daily. The trolley route covers all of the major hotels on the Strip and also the Fashion Show Mall, as well as the off-strip Las Vegas Hilton. Ask at your hotel for the location of the nearest trolley stop.
Las Vegas Tips on Shows
All of the big casino hotels have continuous or indefinite shows, some of them have been running for many years. Examples are traditional Vegas-style productions like Legends in Concert at Harrahs and Jubilee at Ballys. Other long-running attractions are Mystere (Cirque du Soleil) at Treasure Island and Celine Dion at the The Colosseum.
See short videos of some of the top Las Vegas Shows: <a Cheap china Jerseys href="http://www.vegas-tips-and-trips.com/bluemangroup.html">Blue Man Group * Bette Midler * Elton John * Ka -Cirque du Soleil * O -Cirque du Soleil
Most of the top shows sell out quickly; it's best to decide what you want to see and reserve your tickets well in advance. You can find a complete listing of all currently running entertainment attractions and order tickets online at BestofVegas.com.
Las Vegas Tips on What to Wear
For sightseeing, casual dining and visiting casinos, you'll be just fine wearing shorts and t-shirts in the hot summer months, jeans and sweaters in the cooler winter months. But do bring along some nicer clothes if you plan to dine in upscale restaurants, attend fancy nightclubs or go to one of the classier shows. To get an idea of what the weather might be like, check Las Vegas Weather before you start packing.
Top restaurants generally do not require men to wear jackets, but neat slacks and shirts with collar are expected. Nightclubs and lounges might admit you in shorts but you will most likely feel out of place and uncomfortable. Going to Las Vegas shows you will see some people in jeans, but if you've paid $100 and more for a ticket, you'll want to strut your stuff a bit.
Since we're on the subject of what to wear – you'll be doing lots of walking in Las Vegas, so be sure to pack your most comfortable footwear.
google_ad_client="ca-pub-8387241929343321″;google_ad_slot="2198488375″;google_ad_width=120;google_ad_height=240;
Las Vegas Tips on Tipping
Las Vegas is a resort destination, tipping is expected. Here are basic guidelines:
Taxi drivers get 10% to 15% of the fare, 20% if you have heavy luggage. Shuttle bus drivers $1, $2 if they handle your bags.
Hotel bellmen and doormen $1 to $2 for each piece of luggage they help you with. Maids $2 to $3 per day. Room service staff get 15% of the bill, unless the service charge is already added. Hand a buck or two to pool attendants for getting you a lounge chair and/or towels.
Restaurant waiters and waitresses who give good, friendly service deserve 15% to 20%; buffet attendants $1 to $2 for every person in your party.
Las Vegas Tips on Gambling
Gambling is a subject that can't be covered in a few words. If you'd like to learn about blackjack, roulette, craps and other popular casino games Gambling Advisor has all the information you need. There is also a special site with tips and strategies on playing slots and video poker games.
For more Las Vegas tips and information we suggest you pick up a copy of "What's On", a free magazine that is a valuable source of addresses, phone numbers, maps, coupons, show listings, etc. After arrival at the airport, look for "What's On" at rent-a-car counters. This and similar Las Vegas publications are also found in most hotel rooms and in taxicabs.
more Las Vegas Tips for first-time visitorsguarding your purse or wallet while in Las Vegas
socializeit({pack:1,domain:"vegas-tips-and-trips.com",payItText:",szColor:",whatIsThisUrl:""});
Share this page:

Facebook

Twitter

<a href="#share_on_Google" onclick="window.open(socializeit.getURL('Google'), 'sharer', 'toolbar=0,status=0,width=700,height=500,resizable=yes,scrollbars=yes');return ray bans sale false;" class="socialIcon" style="color:#df4a32; white-space:nowrap;">

Google

<a href="#share_on_Pinterest" onclick="window.open(socializeit.getURL('Pinterest'), SEMANA 'sharer', 'toolbar=0,status=0,width=700,height=500,resizable=yes,scrollbars=yes');return false;" class="socialIcon" style="color:#CD1D1F; white-space:nowrap;">

Pinterest

Tumblr

Reddit