Las Vegas Golf Course Guide
Golf courses more than 10 Miles from the Strip
This is our Las Vegas golf course guide for when you want to totally escape the glitter of the Strip. Go a bit further and you will be rewarded with unpolluted desert air, astonishing views and terrific golf for every budget. There is nothing like golf on the desert and in the mountain canyons to clear the head and revel in a totally different Vegas experience.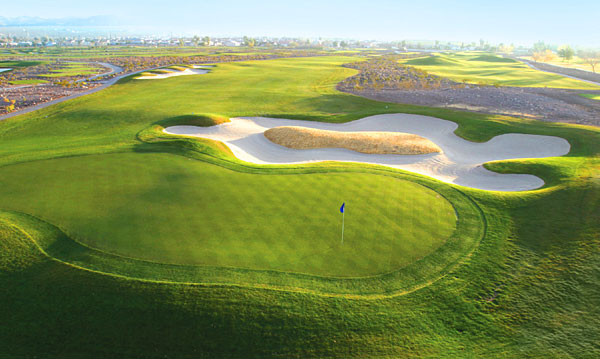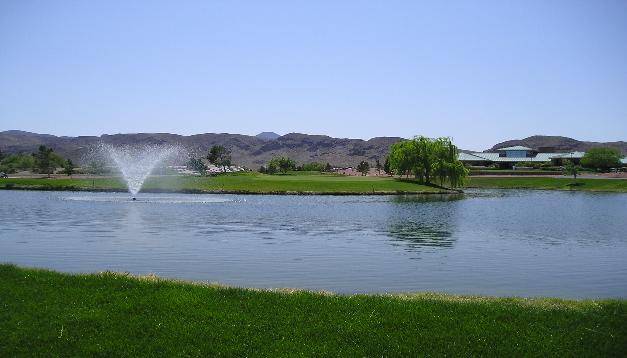 Take lots of water to drink and do not consume alcohol on the course – it dehydrates you even more than the climate will. We also suggest you be wary when reaching into a hole or under bushes for your ball. Snakes and lizards are regular residents of this part of the world and may resent the intrusion.
Listed below are golf courses worth considering that are further than 10 miles from the Strip. This Las Vegas golf course guide includes phone numbers, vital statistics and a price indicator, running from most reasonable ($) to most extravagant ($$$$). Wherever possible, we are also providing web site information where you can get more details and book tee times before leaving home.
~ 12 Miles from the Strip ~
Angel Park Golf Club

$$
Do you want championship caliber golf or stunning views? At Angel Park, you don't need to choose—you have it all. Thirty-six challenging holes designed by Arnold Palmer and magnificent views designed by God. Situated just below the 3,000 ft. mark, you overlook the Red Rock Canyon and the Las Vegas Valley.
~17 Miles from the Strip ~
Black Mountain Country Club

$
Drive 30 minutes outside Las Vegas and you'll find yourself on one of the valley's original golf courses. In 2007, Black Mountain celebrates 50 years of welcoming golfers to its greens. Today it features 27 championship holes and prides itself on its great playing conditions and friendly service.
~ 12 Miles from The Strip ~
Craig Ranch Golf Course

$
Everyone has to start someplace, right? If you are a beginner, the Las Vegas Golf Course Guide recommends Craig Ranch. Walking is permitted on this short 18-hole course and once you have perfected your swing, you could aim for a par 70. With a bucket of balls you can practice on the driving range before heading for the greens.
~ 15 Miles from the Strip ~
Desert Willow Golf Club

$
So you came to Las Vegas for a family holiday and the kids love to play golf. What are you going to do? Hop in the car and drive to Henderson to spend three enjoyable hours on the Desert Willow's executive golf course, the only course in Vegas that has Junior tees.Of its 18 holes, six are par 4s and 12 are par 3s. Water lies between you and the pin on two of the holes. In 2005, Desert Willow was selected as Best Executive Golf Course by Vegas Golfer Magazine.
~ 30 Miles from the Strip ~
Las Vegas Paiute Resort

$$ – $$$
When you've shopped until you're ready to drop and the traffic jams on the Strip are getting irritating and even the ding-ding-ding of winning slot machines has lost its allure, it's time to get out of Vegas. Waiting for you a short drive away in the southern Nevada desert, tucked at the foot of the scenic Spring Mountains is Las Vegas Paiute Resort. Three player friendly but challenging Pete Dye courses make up the resort.Snow Mountain and Sun Mountain are both par 72 courses. Wolf, the newest course, at 7,608yards is the longest in the state of Nevada.
~ 12 Miles from the Strip ~
Legacy Golf Club

$$
What will they think of next—a dealer and table at every tee so you can play blackjack while you wait to tee off? At the Legacy, you are humorously reminded at the10th hole that you are not far from a casino. Each tee box is shaped like a playing card representing hearts, spades, diamonds and clubs. The course promises to challenge all levels of players, but novices get a break with the well spaced tee boxes and wide open landing areas. Voted by Golf Digest as one of the Top 10 Courses to play in Nevada.
~ 12 Miles from the Strip ~
Los Prados Golf Course

$
Winding throughout a community of over 1,300 homes, Los Prados deserves to be included in our Las Vegas golf course guide. This course was established in 1987 under the close direction of architect Jeff Hardin. With fast greens, tight fairways and lots of bunkers,the course tests the best. Play time for 18 holes averages four hours.
~ 16 Miles from the Strip ~
Painted Desert Golf Club

$
In 1987, someone had the bright idea of making room in the desert for golf courses—and so the 18-hole Painted Desert was conceived and delivered. If you miss the fairway, there is all that sand to stop your ball from rolling too far. There's little risk of balls getting lost in the woods—but watch out for the cacti! Don't imagine that you will be playing on sand fairways. The course is lush green where it should be and you'll face holes shielded by water and bunkers.
~ 17 Miles from the Strip ~
Red Rock Country Club Arroyo Course

$$
If you're lucky you might get an opportunity to play at this elite, upscale club that will become private once the membership roster is full. The fairways ramble through two ranges—the Spring Mountain and the Red Rock Canyon. It is possible to lose your concentration, and hence your best shot, by the rugged beauty surrounding you.
~ 16 Miles from the Strip ~
Siena Golf Club

$
There are water challenges and then there is Lake Siena that spills a churning waterfall at the very first hole of the Siena Golf Club. Just a bit of extra pressure as you start your game! The course borders the quarter-mile long lake and doles out beautiful views in all directions from city lights to mountain peaks. Each hole has an Italian name and most feature natural rock outcroppings and palm trees. The club states that the 9th hole, Della Pantera, is one of the most beautiful in the State. From an elevated tee box you can see the Spring Mountains reflected in the lake.
~ 12 Miles from the Strip ~
Wildhorse Golf Club

$
It has been said that Wildhorse offers the toughest golf hole in Las Vegas. Its 18th hole won this claim to fame from the Vegas Golfer Magazine. So if you are too hot and tired to face an extremely rough challenge, the Las Vegas golf course guide suggests you head for the 19th hole straight from the 17th! The course was built in 1959 and over the years frequently hosted the PGA. It was redesigned in 2004 by architects Brian Curley and Lee Schmidt and features several holes safely tucked behind lakes often combined with bunkers for extra security.
See our other page Las Vegas Golf Course Guide – UNDER 10 Miles from the Strip